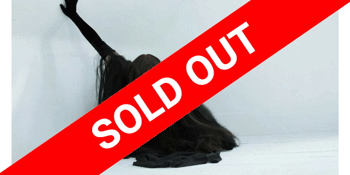 The Bird's Robe Collective present
Chelsea Wolfe (USA)
with special guest Emma Ruth Rundle
Max Watt's Melbourne (Melbourne, VIC)
Saturday, 18 June 2022 8:00 PM
Celebrated US gothic-rock/folk/doom-metal luminary CHELSEA WOLFE has announced her Australia & New Zealand tour will be rescheduled for 2021.
Originally planned for June this year, the current restrictions on travel and social distancing due to COVID-19 have made it necessary to reschedule all show dates for June 2021. All current tickets will be valid for the new dates & refunds will be available from ticketing outlets for the next month for those who can't attend, or are no longer sure of their availability at this stage.
With the initial Melbourne show already sold out, a second show has also now been made available for fans who missed out.
Wolfe will tour with her four-piece band, as well as bringing along Sargent House labelmate EMMA RUTH RUNDLE performing solo as support for all shows.
The rescheduled dates for June 2021 will see both artists play their first ever New Zealand shows in Wellington & Auckland, before continuing on to Perth, Adelaide, Brisbane, Sydney & Melbourne.
Chelsea Wolfe will perform a career-spanning set on this tour, including songs from her new album "Birth of Violence" released last September.
Chelsea Wolfe last played in Australia in 2016 for Tasmania's Dark Mofo event, with her last full national tour back in 2012.
In the meantime, she has continued to earn a cult following worldwide, propelling her previous albums 'Hiss Spun' (2017) & 'Abyss' (2015) onto the Billboard 200 albums chart and further critical acclaim.
From Roskilde Festival to selling out club tours, Chelsea Wolfe's versatility as a performer and songwriter is on full display at her visceral live performances, whether solo or with her band.
2020 marks 10 years since her debut 'The Grime and The Glow' was released, sparking a career that has influenced and inspired fans across continents to appreciate life in both its darkness and light.
'Birth of Violence'
was written and recorded in solitude at home in Northern California. Following the brooding heaviness of 'Hiss Spun', Wolfe chose to return to her folk roots. These songs describe 'an internal awakening of feminine energy, a connection to the maternal spirit of the Earth and a defiant stance against the destructive and controlling forces of a greedy and hostile patriarchy.'
Opening track 'The Mother Road' quickly establishes this sound: simultaneously unnerving and soothing. Whilst critical reviews have been positive, it's perhaps the feedback from her fans that best describes the power and allure of Chelsea Wolfe in its simplest form:
'After the doomy heaviness of Hiss Spun, another acoustic record – she seriously can nail it in any style'
'Her heavier, doomy records got me into her music, but her acoustic material is completely entrancing.'
'I cannot believe I am lucky enough to be alive in a time where Chelsea Wolfe exists'
Chelsea Wolfe will be joined at all shows on this tour by singer songwriter EMMA RUTH RUNDLE. Revered for her powerful and evocative songwriting as much as her artistic flair and versatility, she was also invited to curate this year's Roadburn Festival (also recently postponed due to coronavirus restrictions). In addition to her work with renowned groups RED SPAROWES, MARRIAGES & THE NOCTURNES, Emma has released five solo records, most recently 2018's 'On Dark Horses.' Her passionate live performances are renowned as much as her songcraft and Australian & Kiwi fans will finally get to experience her live performances for the first time ever this June.
This is a Covid Safe event and there are a few things we need you to know before you arrive:
PLEASE DON'T COME if you feel sick, if you've been in contact with a person who has been diagnosed with coronavirus (Covid-19) or if you have travelled overseas or to a coronavirus hotspot in the last 14 days. Contact Oztix - we will refund your ticket.
BRING A MASK — if you are unable to socially distance, it will offer you protection.
A strict NO QR CODE, NO ENTRY policy applies at our venue. We use the Service Vic App QR code and you will have to show a Security Guard YOUR GREEN TICK at the door ​to enter the venue.
​Your TICKET WILL BE SCANNED at the Box Office and matched to the detail input at the time of purchasing your ticket. This data will be kept for 28 days to facilitate Track & Trace.
Download the App now for iPhone
Download the App now for Android
5. NO MOSHING and NO CROWD SURFING. Patrons who kick off will be removed from the venue. We're really sorry about that, but we're in a pandemic and we want to STAY OPEN.

Do your best to remain socially distanced and practice good hand hygiene. If you feel sick at the event, please report immediately to the Box Office so we can do a first aid assessment and get you home safely.
Max Watt's will be operating under the Victorian State Government vaccination mandate. Therefore, as outlined in the Victorian Roadmap, only patrons, staff and artists who are double vaccinated against Covid-19 will be able to enter the venue. This is for the safety of all that attend.

Customers are required to check-in via the Service Victoria App with a valid Vaccination certificate as they enter the venue.

Only Government Approved Exemptions will be accepted.