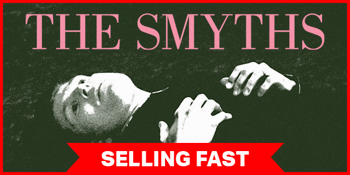 Metropolis Touring presents
THE SMYTHS (UK) play THE SMITHS The Queen Is Dead
with special guests
Max Watt's Melbourne (Melbourne, VIC)
Friday, 23 February 2024 8:00 pm
THE SMYTHS (UK) play THE SMITHS The Queen Is Dead album in Full plus and encore of Greatest Hits - This Charming Man, Panic, Heaven Knows I'm Miserable Now, Ask, How Soon is Now, Hand in Glove, What Difference Does It Make, Still Ill, Girlfriend in a Coma plus more.
"If I had closed my eyes, no-one would have convinced me that it wasn't Stephen Patrick Morrissey singing onstage" (Gutter Magazine)

There's cover bands, there's tribute bands, then there's The Smyths. The Smyths have been retelling classic moments from The Smiths songbook. The Smyths do more than copy and paste; they absorb and omit. Close your eyes, and you won't know the difference…
"a nostalgia trip… unified in their love of live music and the work of The Smiths" (Sugarmill)
The Smyths bring with them the sound, the feel and ultimately, the spirit of The Smiths as only devotees of The Smiths could do.
"The Smiths are no longer, long live The Smyths" (Monstagigz)