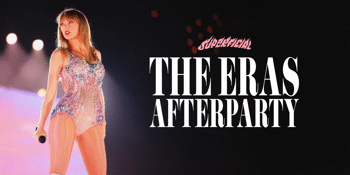 Superficial presents
The Eras Afterparty Saturday – Melbourne
Max Watt's Melbourne (Melbourne, VIC)
Saturday, 17 February 2024 11:30 pm
💕 YEAH I SHOWED UP AT YOUR (AFTER)PARTY 💕
THE ERAS AFTERPARTY
SATURDAY FEB 17
11:30PM
MAX WATT'S
MELBOURNE
18+
⭐︎⭐︎⭐︎⭐︎⭐︎⭐︎⭐︎⭐︎⭐︎⭐︎⭐︎⭐︎⭐︎⭐︎⭐︎
It's been a long time coming Melbourne!

Once the glitter is on the floor after The Eras Tour at The MCG, we will be continuing the party all night at Max Watt's for a HUGE Eras Afterparty!
We can't wait to relive all the best moments from The Eras Tour (and give justice to our favourite songs that didn't make the cut)
Get your tickets now!
⭐︎⭐︎⭐︎⭐︎⭐︎⭐︎⭐︎⭐︎⭐︎⭐︎⭐︎⭐︎⭐︎⭐︎⭐︎
SOUNDS LIKE:
Taylor Swift x 1000000
⭐︎⭐︎⭐︎⭐︎⭐︎⭐︎⭐︎⭐︎⭐︎⭐︎⭐︎⭐︎⭐︎⭐︎⭐︎
Please note this is a tribute party to celebrate the music of Taylor Swift on a dancefloor! Superficial are not affiliated with Taylor Swift, Frontier Touring, or The Eras Tour, and Taylor Swift will not be performing at this event.