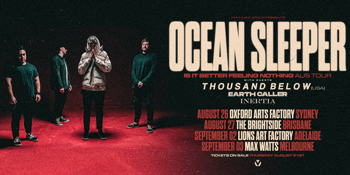 Vita Music & Ocean Sleeper Presents
Is It Better Feeling Nothing - Ocean Sleeper EP Tour
With Thousand Below (US), Earthcaller, Inertia
Max Watt's Melbourne (Melbourne, VIC)
Saturday, 3 September 2022 8:00 pm
Fresh off the back of two monstrous singles, 'Forever Sinking' and 'Your Love I'll Never Need', Ocean Sleeper present their national dates for their upcoming EP 'Is It Better Feeling Nothing' out August 19th.
Coming along for the ride will be San Diego hard hitters Thousand Below. After the release of 'Gone To Me' and 'Venenosa' earlier this year, Thousand Below are shaping up into one of heavy music's most promising acts.
In addition to Thousand Below, Melbourne's Earth Caller and Sydney based Inertia will be filling out dates for the tour, filling out a stacked lineup of some of the next big names in heavy music.