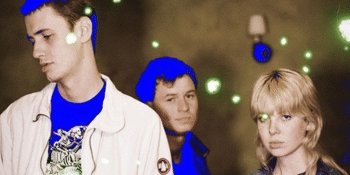 Rising Presents
The Goon Sax (Early Session)
with Jonnine
Max Watt's Melbourne (Melbourne, VIC)
Thursday, 3 June 2021 6:30 pm
Head down the staircase for atmospheric apparitions and pop shredders.
A night sitting on pop's outer reaches with The Goon Sax and Jonnine. The Goon Sax wield three-minute weapons, that'll shred your heart to ribbons. They've taken a big sonic leap since their guitar, bass and drums debut: new edges and angles have formed with the addition of anxious woodblocks and synths. Now, seminal US indie label Matador's releasing their new record and they'll preview the first tracks at Max Watts.
Meanwhile Jonnine has spent years mastering twilight synths and shadowy club corners in her band HTRK. At the end of last year she dropped her masterful solo record Blue Hills. If The Shining's Overlook Hotel opened up at Lake Eildon, it would look like this: a labyrinth of texture and sharpening blades in which sleep and wakefulness overlap. Get spooked on arrival.
"It is a deceptively difficult trick, to capture the humanity and irregularities of music in a way
that does not feel cloying, but Brisbane's The Goon Sax manage it again, and again, and again.
This is some kind of wonderful."—Everett True, The Guardian