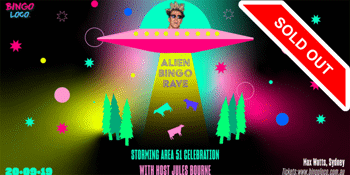 BINGO LOCO Alien Bingo Rave
Max Watt's Sydney (Moore Park, NSW)
Friday, 20 September 2019 6:30 pm
September 20 will soon be a marked as a very special day in our calendars, it will be hence fourth known as the day we (as humans) stormed area 51 and uncovered the truth about what is really out there in the Universe! We at Bingo Loco don't miss out on an opportunity to celebrate and this is definitely a day in history worth celebrating.
Introducing our Alien Bingo Rave, hosted by the best bachelor this side of Neptune, Jules Bourne.
We will have all our normal Bingo Loco madness as well as live crosses to the Area 51 throughout the show, a special Alien Rave Round and special guests performers that are 'out of this world'.

Tickets: http://buytickets.at/legselevenentertainmentptyltd/289344

WHAT IS BINGO LOCO?

We are the runaway child of traditional bingo complete with rave rounds, lip sync battles and dance offs. The conventional Bingo Cartel don't like what we do. We don't care. We are bringing bingo kicking and screaming into a full on party rave! We've got the ball's... the bingo balls to make your roar so loud you'll definitely lose your voice.

Previous prizes include: Trip to Vegas & Coachella, dildos, blow up dolls, Instax cameras, crates of cans, a bathtub, 90's gameboys, convertible car, bags of rubbish, 8 foot teddy bears and even a boat??
In 2019, Bingo Loco is partnering with Make-A-Wish® Australia with proceeds from the event going towards helping create life-changing wishes for children with critical illnesses.

Here's a taste of what we are: https://facebook.com/bingolocoie/videos/361011684388707/

The Dirty Details:

Max Watts Sydney
Friday 20th of September
Doors open: 6:30pm
First game: 8:00pm
18s+

Inquiries: hello@bingo-loco.com
*****FAQ*****

The Bingo Loco I want to attend is sold out! How can I get tickets?

Unfortunately when an event is classified as SOLD OUT, we are booked to full capacity. If the venue opens up extra tickets, we will promptly make announcements on social media and on our website bingo-loco.com. We do not have door sales for sold out events. On the rare occasion that an event has allocated door tickets, it will be explicitly advertised.

A big group of us is attending, can we reserve a table?

We don't reserve tables. Seating is first come first serve! Doors generally open an hour or more before the first game kicks off. Make sure to get to the venue early with your mates to save spots and get some pregame drinks in!

I didn't receive a confirmation email with my ticket code, can you resend it?

PLEASE CHECK YOUR SPAM FOLDER BEFORE EMAILING US. If your ticket confirmation email is not hiding in your spam folder, you could have mistyped the email in your order form or are using a business email that is incompatible with our ticket platform. Email us at hello@bingo-loco.com and we will be happy to sort it out for you!

Do I have to print my ticket?

There is no need to print it! Make sure you have your ticket confirmation email ready on your phone when you arrive.
Terms and Conditions:

Bingo Loco is an entertainment event run by Legs Eleven Australia Pty Ltd and is separate to cost of playing Bingo (Charity Housie), operated by Legs Eleven Entertainment Pty Ltd on behalf of Make-A-Wish® Australia. There is no obligation from attendees of the event 'Bingo Loco' to play Bingo (Charity Housie). The separate cost to play Bingo is $3.60 for a booklet of 9 tickets. Proceeds from Bingo go to Make-A-Wish® Australia.

Charity Housie is similar to Bingo. Charity Housie is played with printed tickets bearing numbered squares. A Caller announces the numbers to the players which are selected at random from a registered Bingo / Housie machine. Each player marks off the numbers on their ticket as they are called. A player wins if they are able to mark off all the numbers on their ticket, left-to-right, first. The benefiting charity for this event is Make-A-Wish® Australia and will receive proceeds raised from the sale of the Housie books. Bingo Loco's Charity Housie prizes are calculated on the basis of sales and limited to a maximum of 75% of the gross proceeds of the Housie tickets ($0.40c per ticket / $3.60 per booklet). The maximum combined total value of jackpot prizes awarded in a major Housie session will not exceed $2,000. During a session any conditions can be viewed at the sales desk. A participant who has won a prize will call out 'Bingo Loco' and hold their booklet in the air. These instructions are laid out clearly by the host at the start of the game. Each ticket claimed to be a winner is inspected by the host and / or the assistant of the host. Spotters will be placed within the audience to ensure each winner is identified quickly. If Bingo is called on a winning number by more than one participant or, from a number called prior to the last number called and someone else goes out on the last number called, the prize will be shared equally and an optional test of skill will be run for a bonus prize. A number is not fully called until the number has been repeated, if a number is called by mistake and repeated, that number will then be classed as called. If a number is lit up on the board and is missed by the Caller, that number will only be accepted as a valid number if it is called and repeated by the Caller before the end of that game and providing the Bingo machine is not faulty. Legs Eleven reserves the right to alter progressive jackpots at any time. Any disruptions during Housie are not acceptable and the person or persons involved may be asked to leave. The Session Supervisor / event manager will have the final say on any disputes arising during a session and disputes will be dealt with in a separate room. The following is prohibited from participating in the Charity Housie: Family members of the benefiting charity representatives, Legs Eleven Australia Pty Ltd or employees of Legs Eleven Australia Pty Ltd; spotters; callers; event staff; charity representatives. Think About Your Choices. Call Gambling Help – 1800 858 858 www.gamblinghelp.nsw.gov.au