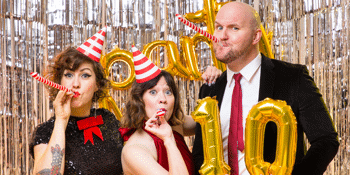 The Big HOO-HAA! Melbourne Present
CANCELLED - The Big HOO-HAA! Melbourne's 10th Birthday Party
Including DJ Dance Party!
Max Watt's Melbourne (Melbourne, VIC)
Friday, 10 July 2020 7:00 PM
Melbourne's longest running improvised comedy show is turning 10 and it's time to party!
For this birthday comedy extravaganza, The Big HOO-HAA! Melbourne has a lot to celebrate. It's been a decade of fast, furious and funny improvised hilarity, so on July 10th this Melbourne institution is pulling out all the party favours. We're in a bigger venue, for bigger laughs and bigger punchlines, all courtesy of a who's who of Melbourne's finest comedians.
But once the show is done, the party's only just getting started. Come for the comedy and stay for the dance floor – because your ticket gets you in for a DJ danceathon helmed by one of Melbourne's most in-demand party DJs.
If you've seen The Big HOO-HAA! before, you don't want to miss the biggest of them all. This is the best and brightest birthday party invite you'll receive this year! Whoever said you couldn't have your cake and eat it too?
"Impossible not to have a good time" - Herald Sun
"Improvised comedy at its absolute funniest" - Time Out
"Gold standard comedy" – Weekend Notes