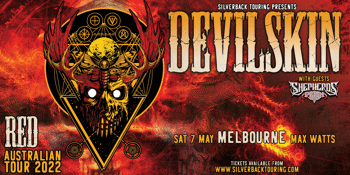 SILVERBACK TOURING presents
Devilskin
with special guests These Four Walls and Bad Moon Born.
Max Watt's Melbourne (Melbourne, VIC)
Saturday, 7 May 2022 7:00 pm
In what seems like an eternal rollercoaster of close calls and postponements, Silverback Touring are pleased to re-announce the DEVILSKIN "RED" Tour with a new set of dates. The hard hitting Kiwi band released their critically acclaimed third studio album RED in April 2020 and have been trying to make it to Australia to celebrate. Now, with borders finally opening and plenty of light at the end of the pandemic tunnel, Australia finally get their chance to witness Devilskin on their first ever headline run down under in April/May 2022.

On the tour, Devilskin's Nic Martin says, "We are so grateful for our overseas supporters, who have proven their patience and loyalty as we have tried to bring this show to their shores. Now that it appears safe to do so, we are frothing to be connecting with our friends in Australia again. We're incredibly excited to finally showcase our latest album, especially in a few cities we've never previously performed. It's going to be a massive reunion, so we hope you're ready for a Kiwi-style party, Aussie!"

Having stunned Australian crowds on tours with HALESTORM and SLASH Ft. Miles Kennedy and the Conspirators, and appearing on Download Australia in 2019, DEVILSKIN are one act not to be missed.

Max Watt's will be operating under the Victorian State Government vaccination mandate. Therefore, as outlined in the Victorian Roadmap, only patrons, staff and artists who are double vaccinated against Covid-19 will be able to enter the venue. This is for the safety of all that attend.

Customers are required to check-in via the Service Victoria App with a valid Vaccination certificate as they enter the venue.

Only Government Approved Exemptions will be accepted.