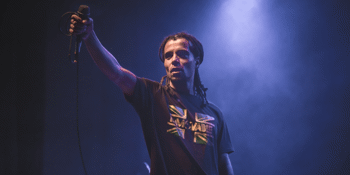 Immovable Limited, Diplomats Of Sound & Square One present
Akala Visions Tour
Max Watt's Sydney (Moore Park, NSW)
Saturday, 4 May 2019 7:00 pm
Akala will be touring his Visions EP. The Visions EP is the musical accompaniment to Akala's first part of his new comic book series under the same name.

In Akala's own words, as previewed as MCM Comic Con in London October 2016, Akala said:

"Visions is a semi-autobiographical magical realist story which forms part of a new comic book series written entirely in verse. This all encompassing multi-media historical tale explores higher states of consciousness, charting the evolution of the art of rapping from Africa's Griot traditions, through Jazz, Blues and Reggae up to the modern day."

With deeply stirring soundscapes and hard-hitting beats produced by James Leggett (aka Nearly Native) and Akala with additional production from long time collaborator Lavar Bullard the Visions EP sets Akala's visceral trademark flow to moody strings and timeless rhythms, breaking new ground for his unique approach to Hip Hop: theatrical long form storytelling – a signpost to where Akala is taking the hip hop genre.

Akala is a BAFTA and MOBO award-winning hip-hop artist, writer and social entrepreneur, as well as the co-founder of The Hip-Hop Shakespeare Company.

With an extensive global touring history, Akala has appeared at numerous festivals both in the UK and internationally, and has led innovative projects in the arts, education and music across South East Asia, Africa, India, Australia and New Zealand. Akala has also appeared on Channel 4, ITV, MTV, Sky Arts and the BBC promoting his music and poetry, and speaking on wide-ranging subjects from music, race, youth engagement, British/African-Caribbean culture and the arts, with numerous online lectures and performances that have millions of views on YouTube.

Having been awarded an honorary Doctorate from Oxford Brookes University, he has gained a reputation as one of the most dynamic and articulate talents in the UK.