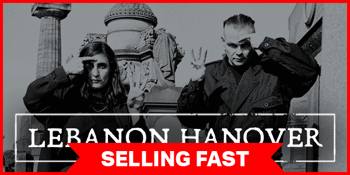 Metropolis Touring presents
Lebanon Hanover
with special guests
Max Watt's Melbourne (Melbourne, VIC)
Wednesday, 24 April 2024 8:00 pm
Darkwave, post-punk duo LEBANON HANOVER First Ever Tour of Australia!
LEBANON HANOVER are Swiss Larissa Iceglass and Brit William Maybelline. They are one of the most significant bands creating music within the post-punk, goth, and darkwave scene of the past decade. They are a perfect reminder that sadness is natural, beautiful, and best experienced through music. With their maximum coolness, frosty aesthetic, and trance-like songwriting, no fan of the style will be disappointed.
"It was the purpose of Lebanon Hanover to create minimal somber music like in the early '80s" Iceglass says, "It suits our dark age more than any happy plastic high-pitched pop"
LEBANON HANOVER, an ice-cold reply to the alienated world coming from two warm beating hearts, will finally make their long-awaited Australian debut!
"They take their dark girl/boy vocals, razor sharp guitars and brooding bass-lines to create some sort of synthetic apocalyptic pop, reminiscent of Siouxsie, Cure, Bauhaus or Xmal Deutschland" (Peek-a-Boo)