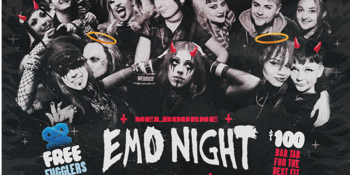 Emo Night X Heaven & Hell X Short Stack DJ X Melb X CBD
Max Watt's Melbourne (Melbourne, VIC)
Saturday, 17 September 2022 8:00 pm
It's Not Just A Phase!

Put on your favourite black skinny jeans and whip out your hair straightener, EMO NIGHT is COMING, Tell All Your Friends!


Hear all your favourite emo tunes from the likes of A Day to Remember, AFI, All American Rejects, All Time Low, Blink 182, Bring Me The Horizon, Enter Shikari, Fall Out Boy, Good Charlotte, Green Day, Hawthorne Heights, My Chemical Romance, New Found Glory, Panic! At The Disco, Paramore, Rise Against, Simple Plan, Sum 41, Taking Back Sunday, The Used, Yellowcard, Neck Deep, Rage Against The Machine, Linkin Park, Limp Bizkit, Jimmy Eat World, Metro Station, Falling In Reverse, 3OH!3, Avril Lavigne, All American Rejects, Boys Like Girls, Bullet For My Valentine, Evanescence, The Offspring, Red Jumpsuit Apparatus, Slipknot, The Veronicas, 30 Seconds To Mars, We The Kings, Cute Is What We Aim For, Twenty one pilots, Story Of The Year & many more!


So pull out your finest eyeliner, skinny jeans and let us know what emo tunes you want to scream at the top of your lungs!

18+ photo ID required. No refunds.
Dress code: Rawr xD
Management reserves the right to refuse entry.