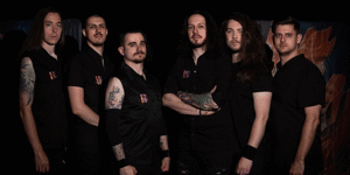 Destroy All Lines
Orpheus Omega 'Bleed The Way' Anniversary Tour
Triple Kill
Max Watt's Melbourne (Melbourne, VIC)
Friday, 25 February 2022 7:30 pm
Melbourne melodic death metal institution ORPHEU
S OMEGA are hitting the road this July as they celebrate 10 years of their debut album "Bleed The Way". The Australia melodeath quintet have paved their way through the Australian metal scene with their enigmatic live shows demonstrating their command of both elegant melody and ferocious aggression for over a decade, and now they return to their roots for one time only by returning to the album that started it all.
Accompanying Orpheus Omega are fellow Victorians and cult favourites TRIPLE KILL, who combine their unabashed assault of groove, thrash and power metal upon the audience. Coming off the back of their sold-out hometown show at Stay Gold, the young Melbourne metallers are itching to return to the road.
Don't miss two of Victoria's best in the heavy this July! Tickets are strictly limited due to COVID-19 restrictions.
Max Watt's will be operating under the Victorian State Government vaccination mandate. Therefore, as outlined in the Victorian Roadmap, only patrons, staff and artists who are double vaccinated against Covid-19 will be able to enter the venue.
This is for the safety of all that attend.
Customers are required to check-in via the Service Victoria App with a valid Vaccination certificate as they enter the venue.
Only Government Approved Exemptions will be accepted.