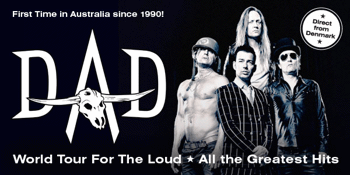 Metropolis Touring presents
D-A-D (Denmark)
Max Watt's Melbourne (Melbourne, VIC)
Saturday, 19 November 2022 8:00 pm
Brought to you by Metropolis Touring.
Welcome to the wildest R'n'R amusement park!
Danish rockers, D-A-D 35th Anniversary World Tour October 2021!
For this special occasion and D-A-D's first Australian Tour since 1990 they will perform all their Greatest Hits - Sleeping My Day Away, Girl Nation, Jihad, Laugh And 1/2, Bad Craziness, It's After Dark, I Want What She's Got and heaps more!
D-A-D have continued a schedule of consistent touring performing to thousands of fans. With only a single line up change over 20 years ago, in a career spanning almost 40 years, the live chemistry of the band is unparalleled!
After a 30-year wait Australia will finally get to witness what European audiences have indulged in for the last three decades! Don't miss this is a once in a generation tour for Australian fans with a career encompassing 35th Anniversary setlist!
"a D-A-D show is a party and it always will be" Jesper
This is a Covid Safe event and there are a few things we need you to know before you arrive:
PLEASE DON'T COME if you feel sick, if you've been in contact with a person who has been diagnosed with coronavirus (Covid-19) or if you have travelled overseas or to a coronavirus hotspot in the last 14 days. Contact Oztix - we will refund your ticket.
BRING A MASK — if you are unable to socially distance, it will offer you protection.
A strict NO QR CODE, NO ENTRY policy applies at our venue. We use the Service Vic App QR code and you will have to show a Security Guard YOUR GREEN TICK at the door ​to enter the venue.
​Your TICKET WILL BE SCANNED at the Box Office and matched to the detail input at the time of purchasing your ticket. This data will be kept for 28 days to facilitate Track & Trace.
Download the App now for iPhone
Download the App now for Android
5. NO MOSHING and NO CROWD SURFING. Patrons who kick off will be removed from the venue. We're really sorry about that, but we're in a pandemic and we want to STAY OPEN.

Do your best to remain socially distanced and practice good hand hygiene. If you feel sick at the event, please report immediately to the Box Office so we can do a first aid assessment and get you home safely.

Max Watt's will be operating under the Victorian State Government vaccination mandate. Therefore, as outlined in the Victorian Roadmap, only patrons, staff and artists who are double vaccinated against Covid-19 will be able to enter the venue. This is for the safety of all that attend.

Customers are required to check-in via the Service Victoria App with a valid Vaccination certificate as they enter the venue.

Only Government Approved Exemptions will be accepted.