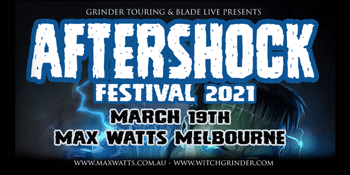 Grinder Touring & Blade Live
Aftershock Festival - Witchgrinder, Elm Street & More!
Envenomed, Espionage & Katana Cartel
Max Watt's Melbourne (Melbourne, VIC)
Friday, 19 March 2021 8:00 pm
As we leave that sh*t storm that was 2020 behind us it's time to start the year off right with a festival of heavy metal! Grinder Touring and Blade Live are proud to present the first official AFTERSHOCK FESTIVAL at Max Watts House of Music (Melb) March 19th. Prepare for a massive night of madness and mayhem brought to you by Australia's big guns of the metal scene. The nights' onslaught will be hosted by Industrial metal demons Witchgrinder, Heavy metal Titian's Elm Street, Thrash metal machines Envenomed, Power metal heads Espionage & Thrashes Katana Cartel. But that's not all... We have metal DJs throughout the night, giveaway prizes and drink specials. Due to covid restrictions, there will be a limited capacity so get in quick and make sure you are ready to party and bang that head.