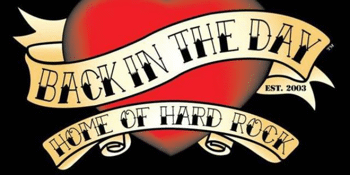 Back In The Day
Back In The Day Rock N Roll Xmas Party
The Poor, Looks That Kill (Motley Crue Tribute) & Acoustikiss (Kiss Tribute)
Max Watt's Melbourne (Melbourne, VIC)
Saturday, 21 December 2019 7:00 pm
BACK IN THE DAY ROCK N ROLL XMAS PARTY SATURDAY 21ST DECEMBER 2019 MAX WATTS
THE POOR With Special Guests
LOOKS THAT KILL (MOTLEY CRUE TRIBUTE) & ACOUSTIKISS (KISS TRIBUTE)
Hey rockers, it's been a while between drinks so what better way to wind up the year than have a BACK IN THE DAY ROCK N ROLL XMAS BASH. Featuring our good friends, THE POOR In their only remaining Victorian show for 2019.
Special guests LOOKS THAT KILL – MOTLEY CRUE TRIBUTE & ACOUSTIKISS (KISS TRIBUTE)
THE POOR have had a blockbuster of a year after hitting the road with THE SCREAMINGS JETS and doing their own headline shows, they are back with a vengeance. Having been a stalwart of the Aussie Pub Rock scene in the 90s, having previously supported KISS, AC/DC, and THE SCORPIONS etc here and abroad they are the real deal, straight ahead Aussie Rock N Roll and if you have witnessed them live you know this is a night not to be missed. They previously played the BITD 7th Birthday and stoked to have them back for more (wine). You will be singing along to Poison, Manowar, Dirty Money, Aint On The Chain, More Wine Waiter Please and more of their classics in a full blown set of blistering POOR tracks.
To celebrate the Xmas festivities', we are bringing back the bad boys of the tribute scene,
LOOKS THAT KILL – MOTLEY CRUE TRIBUTE where you will be singing KICKSTART MY HEART, DR FEELGOOD, HOME SWEET HOME to LOOKS THAT KILL, expect to be blown away by these Melbourne Bad Boys who always put on a killer show with all the Motley Classics.
ACOUSTIKISS will launch proceedings with their special blend of KISS DEEP CUTS AND CLASSIC KISS in acoustic performance that will get you in the mood for a rock n roll party and ready to SHOUT IT OUT LOUD! If you SURE KNOW SOMETHING you know you want to lock this in your diaries.
All the best of 70s.80s,90s hard rock and metal hits you know we will have you ROCK N ROLLING ALL NITE AND PARTYING to the next day, with Resident BITD Djs – Turtle Rox, Andrew Haug and Bozzie
We also have a double pass to giveway to see the legendary Quireboys from the UK when they hit Australia for the first time in February, absolutely amazing live band ,make sure you come down for your chance to win a double pass to this rock n roll event.
So we look forward to seeing your smiling faces for a night of pure rock n roll adrenaline, bring your crew and have a rocking end of year celebration and party like its 1987!
MAX WATTS –125 SWANSTON STREET, MELBOURNE SATURDAY 21ST DECEMBER DOORS 7PM $25 Tickets on sale at www.maxwatts.com.au, www.oztix.coim.au and Oztix retail outlets
BACK IN DAY – MELBOURNES HOME OF HARD ROCK AND METAL ROCKING SOMEWHERE SINCE 2003