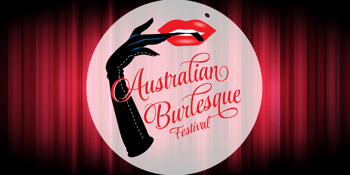 Presented by Dolores Daiquiri (burlesque icon)
THE AUSTRALIAN BURLESQUE FESTIVAL – NOIR EXOTIQUE!
Celebrating 11 years!
Max Watt's Melbourne (Melbourne, VIC)
Sunday, 15 May 2022 8:30 PM
EVENT RESCHEDULED
Original date: Sunday 17th October 2021
New date: Sunday 15th May 2022
---
PLEASE NOTE: CABARET TABLE SEATING WILL BE ALLOCATED ON ARRIVAL.
GROUPS SHOULD ALL ARRIVE TOGETHER.
---
Think you know what burlesque is? Well think again! Join us in celebrating premier neo-burlesque artists in a beguiling romp through the bizarre and intriguing world of modern burlesque! Enter a world of seduction and fantasy veiled to the outside world. Be swept away to another realm of luscious seduction, veiled fantasy and palpable desire.
Be shocked! Be amazed! Featuring the best of neo-burlesque, queer delights, fetish, sizzling erotica, satire, parody, vaudeville and everything in between. We invite you to join us on a journey of mystery, adventure, comedy, dark antics and impressive sideshow! Come let us take you on a sensual and mesmerising journey into the world of bizarre antics!
Celebrating 13 years in 2022!.
The biggest celebration of burlesque in the Southern Hemisphere. If you are going to one burlesque event this year make it this one!
For more information on performers, merchandise, workshops and more head to the website: www.australianburlesquefest.com
Dress code: Evening attire or smart casual
18+ event. Adult content. May contain partial nudity.
*ABF will comply with current and future Covid 19 guidelines*

REFUND POLICY
Tickets are non-refundable and non-transferable for any reason including but not limited to:
• change of mind
• missing part or all of an Australian Burlesque Festival event due to late arrival
• unable to attend due to medical/personal reasons*
*Refunds will only be considered due to extenuating circumstances related to Covid-19 – specifically where the Australian Federal and/or State Government authorities mandate an official change/upgrade in regulations and restrictions regarding social distancing and/or large event and large group gatherings.

This is a Covid Safe event and there are a few things we need you to know before you arrive:
PLEASE DON'T COME if you feel sick, if you've been in contact with a person who has been diagnosed with coronavirus (Covid-19) or if you have travelled overseas or to a coronavirus hotspot in the last 14 days. Contact Oztix - we will refund your ticket.
BRING A MASK — if you are unable to socially distance, it will offer you protection.
A strict NO QR CODE, NO ENTRY policy applies at our venue. We use the Service Vic App QR code and you will have to show a Security Guard YOUR GREEN TICK at the door ​to enter the venue.
​Your TICKET WILL BE SCANNED at the Box Office and matched to the detail input at the time of purchasing your ticket. This data will be kept for 28 days to facilitate Track & Trace.
Download the App now for iPhone
Download the App now for Android
5. NO MOSHING and NO CROWD SURFING. Patrons who kick off will be removed from the venue. We're really sorry about that, but we're in a pandemic and we want to STAY OPEN.

Do your best to remain socially distanced and practice good hand hygiene. If you feel sick at the event, please report immediately to the Box Office so we can do a first aid assessment and get you home safely.
Max Watt's will be operating under the Victorian State Government vaccination mandate. Therefore, as outlined in the Victorian Roadmap, only patrons, staff and artists who are double vaccinated against Covid-19 will be able to enter the venue. This is for the safety of all that attend.

Customers are required to check-in via the Service Victoria App with a valid Vaccination certificate as they enter the venue.

Only Government Approved Exemptions will be accepted.